Breakfast at CCCC 2020!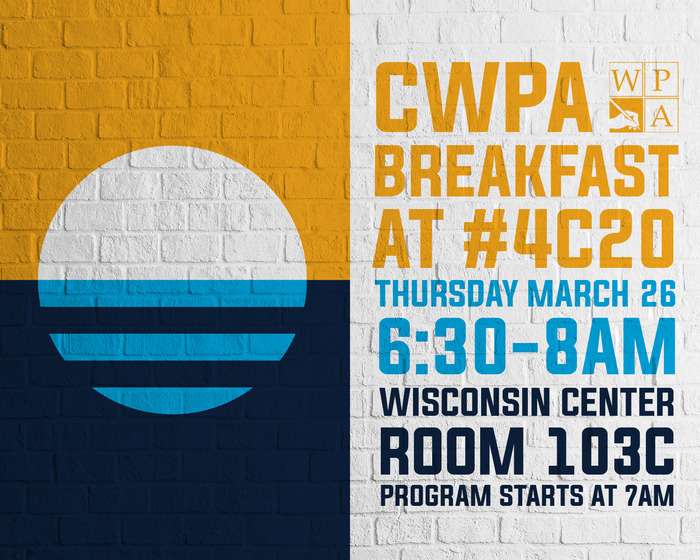 *** NOTE: ***
This event has been cancelled.
See below for information on refund processing.
REFUNDS:
The Breakfast Committee is currently working with CWPA Treasurer Sherry Rankins-Robertson to process refunds for the 2020 event. If you have already purchased a Breakfast ticket, you will be contacted via email with updates.
All refunds should be processed in 2-4 weeks.
An Explanation of the Imagery
The image for the 2020 CWPA Breakfast includes a rendition of the "People's Flag of Milwaukee," the city's symbol of pride and unity. It represents the sun rising over lake Michigan. From the Milwaukee Flag official website, "The light blue bars in [the flag's] reflection represent the city's three rivers (Milwaukee, Menomonee, Kinnickinnic) and three founding towns (Juneau Town, Kilbourn Town, Walker's Point). Gold represents [Milwaukee's] brewing history and white represents peace." The flag reminds Milwaukeeans and visitors to always look forward and face a new day with clarity and confidence.
The brick pattern in the background also has significance: Milwaukee is often referred to as the "Cream City." Though many people associate the nickname with Wisconsin's dairy history, it is actually an homage to the cream-colored bricks manufactured in the area that are made from a clay found around the Milwaukee area in the Menomonee River Valley and on the western banks of Lake Michigan. Cream City brick has been used much of the historic architecture in southeastern Wisconsin, including former Schlitz, Pabst, and Blatz breweries; in the current Miller Brewery; and in many vintage schoolhouses, mansions, and fire houses in the area.
Questions about the breakfast?
Contact one of the CWPA Breakfast co-chairs, Lorie Jacobs (lorie.s.jacobs@gmail.com) or Kat O'Meara (kat.daily.omeara@gmail.com).