2021 CWPA Brekkie!
Tuesday April 6 | 6:30-7:45pm (EST)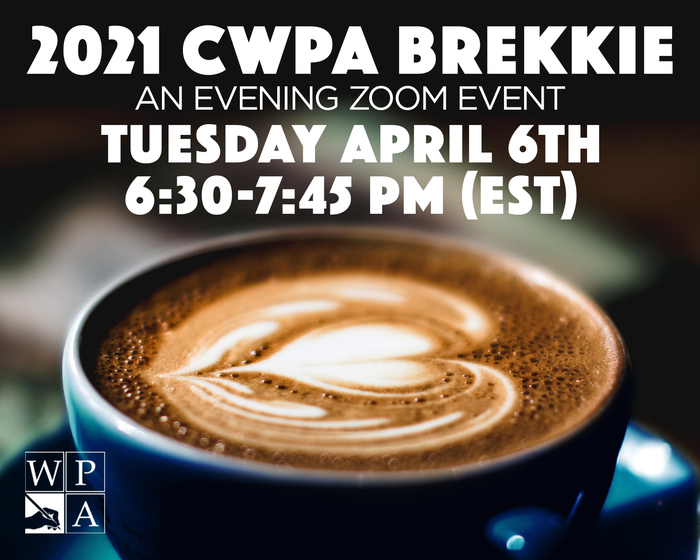 3:30pm Pacific, 5:30pm Central, 8:30 am AEST (the next day!)
Event to be held virtually on Zoom.


An Australian Brekkie-Themed Event
Though the 2021 "breakfast" will be held in the evening in the US, it's always breakfast time somewhere! As it turns out, the event will be breakfast time in Australia.
This year's theme is a warm, official welcome to Susan Thomas as our incoming CWPA President. (Susan is Professor of Writing and Rhetoric at the University of Sydney.)


Schedule
6:15pm - Doors open on Zoom
6:30pm - Program start (introductions and announcements)
7:00pm - Themed breakout rooms; attendees can drop in and chat about a variety of WPA-themed topics


Other Features
This will be a FREE event! However, on the registration page, there will be the opportunity to donate to the Connors Fund (to support graduate students) and to multiple Spokane-area food banks.


WPA-GO Breakfast Buddies: If you signed up to be a Breakfast Buddy, you will be meeting in one of the breakout rooms assigned specifically for these small groups.


Register for the Event
Zoom Link for the Brekkie
An email is going out on the morning of Tuesday March 30 to ALL registered participants. The Zoom link is in this email.

If you did not receive the link, reach out to Kat O'Meara (email below) for the link.
Another email with the Zoom link will be sent to all participants the morning of the event (Tuesday April 6).

Intro Program/Announcements
Click here to view the announcements list for the start of the Brekkie.

Consider Donating to Spokane-Area Food Banks and Community Organizations
In lieu of purchasing a breakfast this year, we suggest making a charitable donation to any of the organizations listed below. They are all located in Spokane, WA— the location that the 2021 CCCC was supposed to be held. An estimated 54 million people experience food insecurity, an issue that has been exacerbated by the COVID-19 pandemic (AAMC 2020).
Click on any link below to make your donation.

Questions about the breakfast?
Contact the CWPA Breakfast chair Kat O'Meara: kat.daily.omeara@gmail.com