WPA: Writing Program Administration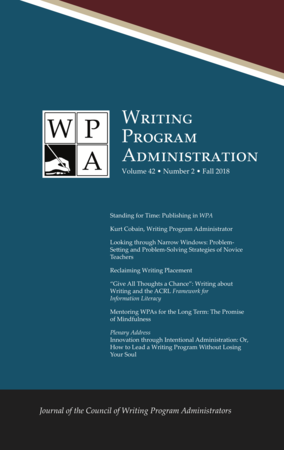 WPA Writing Program Administration publishes empirical and theoretical research on issues in writing program administration. We publish a wide range of research in various formats, research that not only helps both titled and untitled administrators of writing programs do their jobs, but also helps our discipline advance academically, institutionally, and nationally. WPA Writing Program Administration is published twice a year: fall and spring.
Possible topics of interest include:
writing faculty professional development
writing program creation and design
uses for national learning outcomes and statements that impact writing programs
classroom research studies
labor conditions: material, practical, fiscal
anti-racists WPA work
WAC/WID/WC/CAC (or other sites of communication/writing in academic settings)
writing centers and writing center studies
teaching writing with electronic texts (multimodality) and teaching in digital spaces
theory, practice, and philosophy of writing program administration
outreach and advocacy
curriculum development
writing program assessment
social justice through WPA work
WPA history and historical work
national and regional trends in education and their impact on WPA work
issues of professional advancement and writing program administration
diversity and WPA work
writing programs in a variety of educational locations (SLACs, HBCUs, 2-year colleges, Hispanic schools, non-traditional schools, dual credit or concurrent enrollment programs, prison writing programs)
interdisciplinary work that informs WPA practices
This list is meant to be suggestive, not exhaustive. Contributions must be appropriate to the interests and concerns of the journal. The editors welcome empirical research (quantitative as well as qualitative), historical research, and theoretical, essayistic, or praxis pieces. For more information about submission review criteria, please see our "Information for Authors" page.